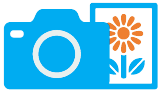 Digicam Print Channel
Do you want to have a photo book or a business card something like what you see below?
Please click here to download the PSD Template for Photoshop that I made for you so you can create your own. They're a bit small, but at least the business cards should turn out good if you make sure to print them at full size. For even better results, please use card stock paper.
By the way, if you're not from Japan and never heard of this (it was never localized to US and Europe), this was just a channel that let you make and print stuff courtesy of Fujifilm.